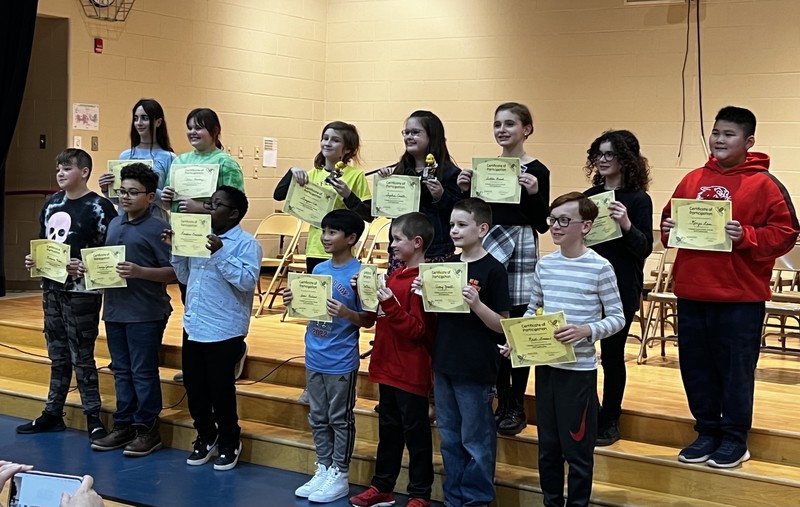 On January 18, 2023, after nine rounds, and eighty-seven words, Grayson Cox, fourth grader, from A.G. Richardson Elementary was declared winner of the annual Culpeper County Spelling Bee. Grayson and seventeen of his peers from all six elementary schools battled for almost two hours until Cox defeated the competition. It was not an easy feat. In second place was Sophia Cordle, fifth grader from Farmington Elementary and Reid Green, fifth grader from Yowell Elementary. Grayson's winning word was installation. He will move on to the next round, the regional competition, held in Fredericksburg on February 25, 2023. The winner of that event moves on to the national competition in Washington, DC.
The evening event included special guest judges Deputy Rob Vail, school resource officer, Mrs. Debbie Gaulden, 5th grade teacher at EHES, and community member Wes Mayles. Mr. Jim DeVries offered his services as this year's pronouncer.
2023 CCPS Spelling Bee Program
Thanks to our sponsors, Grayson and all of the participants received a pass for free entry to Bounce with Us. Reid, Sophia, and Grayson all received trophies donated by Culpeper County Public Schools. Grayson received a gift certificate to Bailey's Cookie Bar, donated by Eppard Orthodontics, a game, and a special cookie donated from Bailey's Cookie Bar.
All of these students should be incredibly proud of themselves. Everyone worked very hard, and their ambition shone through.